Superior to Vacuum or Controlled Atmosphere
Upton salt bath furnaces offer the ultimate in temperature uniformity for minimized distortion and residual stresses, producing maximum physical properties without requiring a skilled operating technician.
Maximum Work Space with Minimum Bath Area
Through the unique submerged electrode placement design, the electrodes do not occupy any portion of the bath. Only the active face comes in contact with the bath. This single exposed electrode surface minimizes bath size and increases electrode life over immersed electrode designs, while eliminating air/salt interface corrosion attack.
Increased Production Capability
Upton salt bath furnaces offer increased production by nature of conductive immersion heating of the parts while providing a buoyancy which minimizes stresses. This uniform medium of salt heating also creates a protective cocoon of salt on the part surface which retards cooling during transfer to the quenching bath ensuring repeatability of process results.
Custom Designed and Engineered
Our in-house engineering and manufacturing allows Upton to custom design furnaces and systems to a customers process and specification requirements, rather than attempting to provide to you standard pre-design equipment, as some of our competitors would attempt to do. Follow-up technical services are available for all Upton thermal process systems.
Our Engineered Thermal Solutions will allow for flexibility in your manufacturing productivity.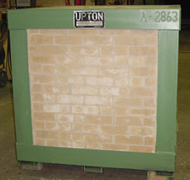 Videos
Furnace Roller Cover Open
Furnace Roller Cover Close