Water or Air Cooled Designs in Single or Three Phase Operation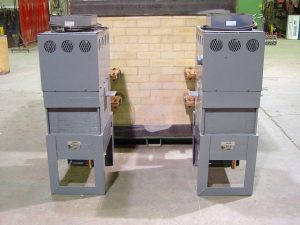 Upton offers both water cooled and air cooled transformer designs with duty cycle rating of 100%. The combination of a stacked steel core and bolted casing allow for disassembly and repair of an Upton transformer as opposed to total replacement requirements for most standard sealed units. The individual Upton Main & Teaser transformer design in Scott connection can eliminate the complete shut-down of a furnace while waiting for the repair or replacement of three phase combined units.
Custom Engineered Power in Small Packages
Upton transformers are specifically designed to suit any salt bath furnace application. Multiple tap secondaries can be engineered with for wide range of voltages and are available with rotary type tap changing switches. Thermostatic high limit protection is a standard for all Upton transformers.
Specialty Transformers
Upton engineers specialty transformers including auto type, series/parallel, and main/teaser combination type units which are designed for use as either a main or teaser unit based on primary wiring configuration. This combination unit eliminates the need to stock multiple transformers as back-up spares.
Water or Air Cooled, Custom Designed and Built
Upton offers both water and air cooled designs to suit your facility requirements. All Upton transformers are 100% duty rated, designed for maximum heat dissipation for extended life.
Upton Transformer Flexibility
Single phase transformers can be wired so that any subsequent failure of one section will not cripple your entire manufacturing operations. Upton can custom design power packages to suit any salt bath furnace application in single, three phase delta or wye, or three phase to single phase Scott type connection. All transformers are designed and manufactured in our facilities at Upton, allowing for repair or replacement transformers with minimal lead times which translates to limited loss of customer production.
Our Engineered Thermal Solutions will allow for flexibility in your manufacturing productivity.