The Upton Story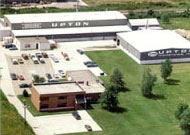 Upton Industries began as a manufacturer of molten salt bath equipment in 1937 with the advent of the submerged electrode design which has since become the industry standard for electric salt bath furnaces.
The expertise gained from our original endeavor has since been expanded to more traditional lines of thermal processing equipment including box type, car bottom, liftoff and specialty furnaces utilizing either electric heating or gas fired systems, with or without protective atmosphere control. This has allowed Upton to become a leader in the worldwide supply of equipment in our Engineered Thermal Solutions in the design and manufacture of thermal process systems.
Upton has approximately 45,000 square feet of engineering, administrative and manufacturing facilities located on 7 acres in suburban Detroit. Our in-house engineering and manufacturing disciplines allow for total project control over equipment design and build within one site. All equipment is preassembled and fully tested prior to shipment to a customers facility.
Our technical field service capabilities allow for on-site assistance during both the installation and commissioning phases of all Upton systems.
With commitment to quality and customer satisfaction as our primary goal, let Upton custom design and manufacture equipment to suit your toughest applications with our Engineered Thermal Solutions.