Upton PLC Based Rotary Transfer Swing Arm Assemblies
Upton automatic rotary transfer swing arm assemblies are designed for rugged, continuous duty operation. Transfer times are fully programmable and achieved from 5 to 12 seconds as metallurgical results dictate. This durability combined with customized PLC programming creates a fully operational and flexible thermal process system.
Closed Loop Vector Based Control System
All Upton swing arm movements are preformed via vector based controls which allow closed loop ramping of speeds combined with soft start/soft stop capabilities. This closed loop system dampens dynamic braking concerns for smooth continuous operation.
Repeatable Metallurgical Results
Our rotary transfer swing arm unit will provide your products with repeatable thermal processing results, load for load, hour after hour. This system design component offers practical engineered solutions to critical quench delay problems.
Our Engineered Thermal Solutions will allow for flexibility in your manufacturing productivity.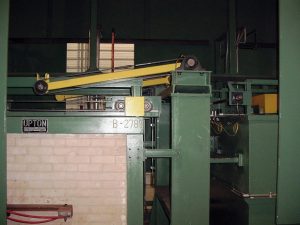 Downloads
Videos
Swing Arm Rotation
Swing Arm Transfer
Swing Arm Quenching