Upton offers PLC based control systems designed for fully automatic operation of thermal process systems. The design of the system is to fully integrate individual furnace operating systems with a single automated material handling system. All control operations can be accessed via touch-screen type operator interface. User selectable screens allow for detailed monitoring and controlling of system functions.
Multiple Selectable Program Sub-Routines
PLC controlled systems are provided with automatic, semi-automatic and manual programs, with multiple programming available for flexible system operation. Fully automatic programs offer operator selectable, preprogrammed sub-routines for changes in systems operations such as machine cycle times, bath set-point interlock temperatures, and quench water addition frequency/durations intervals. All Upton programming is custom tailored to our customers process requirements.
System Operations Monitoring Features
Upton offers standard system operation monitoring features which include individual furnace operating temperatures and primary amperages, water flow, quench water addition, heat exchanger operation and ancillary device operation.
Systems Diagnostics Fault Warning Conditions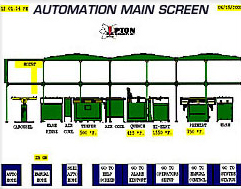 Standard Upton PLC programming of system motion warnings and fault conditions include load/unload carousel operation, rotary swing arm load transfer and automatic hoist travels.
Process cycle warnings and fault monitored conditions include an overall system cycle watchdog timer, temperature recovery/swingarm interlocks, individual furnace high/low temperature fault conditions, SCR overcurrent/shorted conditions and Upton transformer overheating & reset faults.
All monitored conditions and faults will be displayed and historically recorded with a date/time event stamp and date/time operator acknowledgement.
SPC Data Retrieval and Communications Options
Upton offers SPC data retrieval capability to integrate communications to customer host PC systems. This feature allows for engineers to monitor and operate the system from remote locations. Ethernet portal options can allow for machine programming changes and troubleshooting by Upton from our engineering offices directly to your plant floor to minimize machine downtime during production changes.
Our Engineered Thermal Solutions will allow for flexibility in your manufacturing productivity.